Check out this new swap over at the
Alpha Stamps Yahoo Group
. I've already joined and received my materials to create my Tea Pot Album.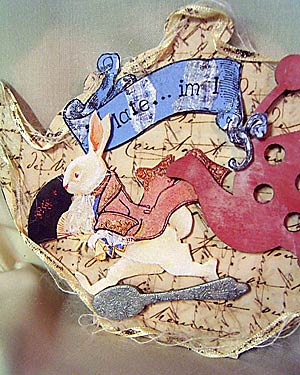 Below is the info from Alpha Stamps or you can click here to go directly to the site.
We're hosting an Alice's Tea Party Swap using the Tea Pot Chipboard Album!
Think Alice in Wonderland, rabbits, tea, teacups, cupcakes, assorted sweets, Queens, grinning cats, hats, and things that aren't quite what they appear to be!
This swap will be 3 for 3. (Create 3 book pages (not the covers) and receive 3 in return, all by different artists!) Please do not send in more than TWO sets (aka: maximum of 6 pages).
For more information (and/or to sign up by October 9, 2011), visit the Yahoo Group. Artwork will be due November 7, 2011.
And swap participants have access to a hidden sale section with over 100 products on sale!
View more art samples on the Alice in Wonderland Collage Sheet pages and/or in the Alice's Tea Party Swap Gallery.
And in honor of the swap, we're also having an Alice Giveaway! Here at Alpha Stamps we all love Alice in Wonderland, so we decided to give away some things to accompany the new Alice Swap!