I am SO IN LOVE with this new stamp set from
Alpha Stamps
called, "
How's My Hair
". What a perfect collection for me! Ever since I received it in my Design Team kit it has been hard to keep it a secret! Below is one piece of work that I did using these stamps and the cute new
chipboard shoes
they have.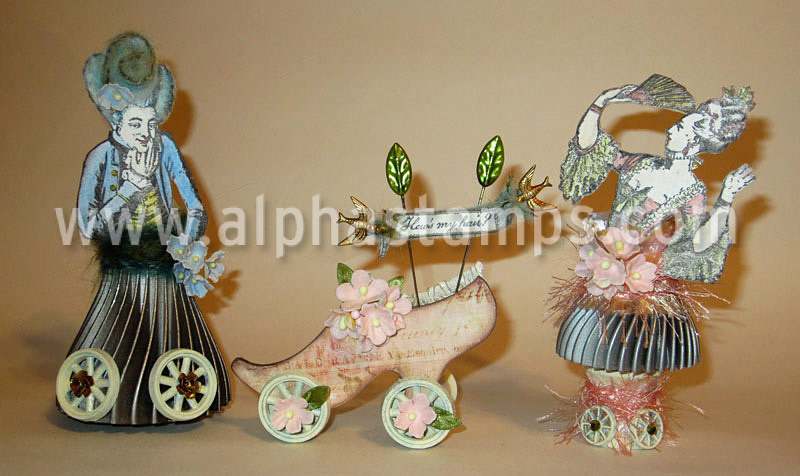 Those metal "skirts" that are attached to my characters are actually old light bulbs from my husband's lab. He is an AMAZING electrical engineer and sometimes it's hard not to "borrow" some of his cool electrical bits & bobs and thing-a-ma-jigs.
And specking of shoes, Alpha Stamps just listed a new swap where you swap just that! Shoes! Here are some more details:
We're hosting a Marie Antoinette Swap (Off With Her Shoes!) using the new 18th c Woman's Chipboard Shoes (the larger size shoes for this swap).
Think over the top, frou-frou fancy shoes befitting Marie Antoinette herself! Lace, ribbons, Dresden, jewels, netting, silk, satin, gorgeous paper "patterns," hearts, flowers, fancy buttons and, of course, Marie herself!
This swap will be 3 for 3. (Create 3 different shoes with embellishments and receive 3 in return, all by different artists!) Please do not send in more than TWO sets (aka: maximum of 6 shoes).
For more information (and/or to sign up by February 5, 2012), visit the Yahoo Group. Artwork will be due March 12, 2012.
View more art samples in the Marie Antoinette: Off With Her Shoes! Swap Gallery.
Of course you KNOW I signed up. Below are some of the shoes I already made and most of the items I used are from Alpha Stamps. The first one has a high haired image of Marie from one of the new collage sheets also titled, "How's My Hair" and you can get many of the sheets digitally now! What could be better! Click here for more Marie sheets and here for the main collage sheet page.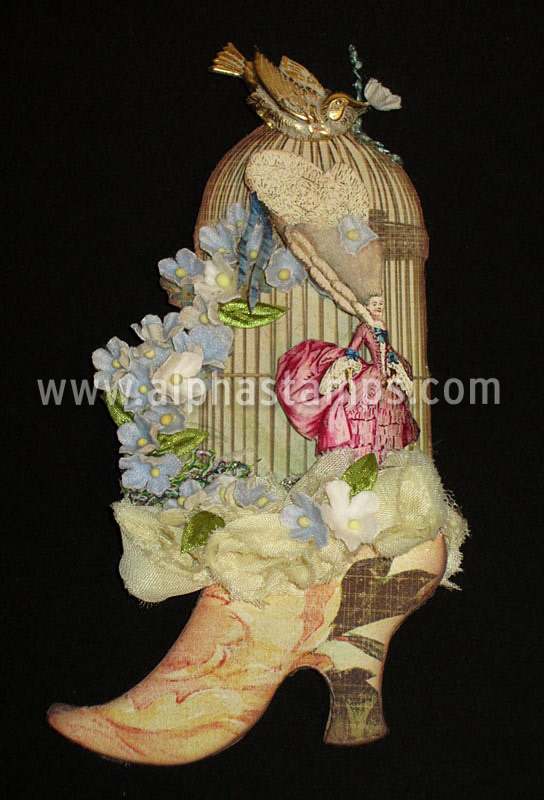 And finally, one more piece that I did using the "
How's My Hair
" stamp set and "
Mad Hatter Clones
" collage sheet, titled, yep, you guess it.... "How's My Hair".
As many of you know, I love using vintage items in my artwork. I started collecting toy guns this past summer and a Marie exploding out with her big hair just seemed perfect! Hope you enjoyed my work and remember to get lost in some yourself! It's so therapeutic!