Even an odd bird needs a haircut, right? Whenever my father sees the art I created he says, "How do you come up with this stuff?" I don't know in all honesty. I start with a few elements and then it just seems to flow together and the process of it all brings me great joy.
For my recent design team work with
Alpha Stamps
, we were given some fabulous
chipboard birdhouses
and
bird shadow box shrines
(which will be another post as I still need to get photos of that piece so be sure to come back soon). I didn't want to go with a flat piece and somehow my brain decided to use these precious little
paper mache house boxes
so that I could make a shadow box of sorts. I love how it all flowed together, how I was able to find vintage treasures that worked as if made for my project and the end result. Don't you?
Oddly, I purchased this milk glass container two days before. I looked up what it said on the internet and found that it was an old bottle of Italian face cream. How odd is that, right here in the mountains of Tennessee? It was perfect. I cut a hole in the bottom of my house box and it fit right in. We wouldn't want any varmints getting into the bird barber shop now, would we?
While I was photographing my work, my oldest had the excellent suggestion that this should be done in the woods. I wonder if the patrons and employees in the Bird Barber Shop are as ready for spring as I am? Be sure to pop by
Alpha Stamps
to see more work by the amazing
Design Team
I am so honored to work with and to see the creatively
new
goodies to use in your own artwork!
Supplies Used:
Robin Red CS
Mad Hatter Clones CS
Chipboard Birdhouse Shapes
Small Paper Mache House
Curiosity 12x12 Paper Pack
Copper Dresden Border Sampler Set
Bird On A Branch
Large Fancy Scissors
Alphabet Baby Beads
Thin Looped Dresden Borders - Black
Mini Pom Pom Fringe - Black
Metallic Distress Paints - Set of 3 - Antiqued Bronze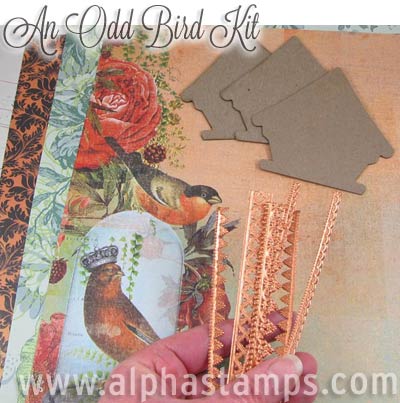 February 2014 Kit - An Odd Bird