Happy New Year everyone! Gosh, where do I begin on this post? I have neglected my blog for a while now and feel guilty for that. I've been in a blog funk and don't know what directions to take with it. I kind of understand why some people end one blog and begin another. But I'm not going to do that here. I love this place and all of my followers.
My family and I had an amazing Christmas. Just watching my children and the happiness on their faces was such a gift. We had so much quality time together and I was so sad when my amazing hubby had to go back to work and the kiddos had to go back to school. As Brandon Flowers of The Killers (my favorite band) recently said, "When you have children it opens up a part of your heart that you never knew you had". Well, it was something like that and it just made me love him more. Can't wait for their next album, which they are working on now. Sorry, had a Killer distraction there for a minute.
Of course, my art is the other important part of my life. I recently created some awesome characters using some old light bulbs from my hubby's lab. He is an electrical engineer. I will post a pic of them soon, but will add that I used some new Alpha Stamps products on them that I am In LoVe WiTh! This past Design Team kit was my favorite ever, and it will soon be announced why so stay tuned.
The Marie Antoinette Mail Art Group is another important part of my life. I am a Committee Member for this group and we (Terri, Melanie, Debi and I) all work together to keep it running smoothly with wonderful artists and swaps. Terri Gordon is the new owner and although Rella has stepped down, she is still with us. We have all sorts of wonderful new Valentine Swaps listed and I am currently making a "body" for a half doll that I found. We had a swap to create a bag of supplies for our partner, so that they could make a beautiful body for their half doll. I have never done this before, but it's not stopping me. I have had so many wonderful challenges come my way through this group and have grown tremendously as an artist.
I think this year, I just want to spend more quality time with my family, keep on creating my Alpha Stamps Design Team work and swaps, as well as create with my Marie group (love those girls). But I also want to try to sell more of what I make, I am such a hoarder when it comes to my work. I need to get over that. I mean, how much of my own artwork can I stuff into my home? Why not sell it and let it bring a smile to someone else? We'll see...
Okay, one last thing. You HAVE to check out the latest swap over at the Alpha Stamps Yahoo Group. I just signed up and hope you will as well. Below is the info from the
Alpha Stamps Blog
.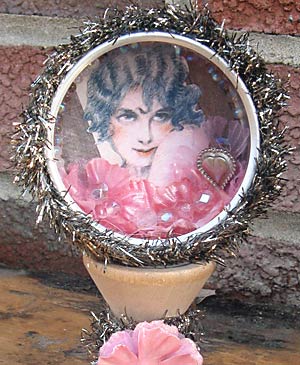 We're hosting a
Naughty Valentines Tins Swap
using the
Large Jeweler's Tins
! And there's a new (
and on sale!
)
Naughty Valentines Collage Sheet
! (Though you're not restricted to only using images from this colorful new sheet for your swap art.)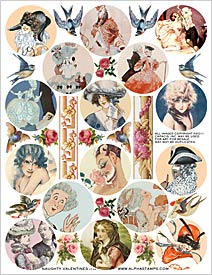 Think naughty with a playful tone! Silly French men, alluring come-hither looks, a bit of nudity (shocking! I know!), excess frilly accessories, rouged faces, garters, ribbons, hearts, and of course, wanton desire!
This swap will be 3 for 3. (Create 3 different tins with embellishments and receive 3 in return,
all by different artists!) Artwork will be due
February 27, 2012
.
Sample art at right (cleverly perched on a vintage wooden spool) is by Design Team Coordinator Miz Bella (Kim Ayers)
.
More info
(and lots more art samples!)
Enjoy your day and be sure to take some time for yourself. Thanks for visiting!